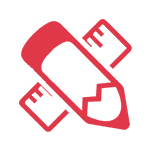 HotLunchOrders.com, Privacy Policy
The privacy of the consumers who use this site is critically important to us. We respect your privacy and have implemented and enforce policies to make certain that your personal information is handled safely and responsibly. Personal information includes any information that uniquely identifies you as an individual such as name, address, phone number, or email address.
Information Collected and its Use
Personal information that you provide voluntarily is collected in order to complete your order transaction and to allow you to view account information and transaction history information. This personal information may include information such as your name, address, phone number and email address. Payment processing shall be performed by PayPal, an eBay Company, which will collect credit card, debit card or bank account information from you. Hotlunchorders.com does not collect, store or have any access to your credit card, debit card or bank account information.
Your personal information is not sold or shared with anyone for any purpose other than to achieve successful completion of your payment transaction. Identifiable information is shared only with those parties entrusted with the processing of your payment. Please note that this policy does not apply to information we are required to disclose by law, or in cooperation with law enforcement agencies
Choices regarding entry of personal information
The entry of your personal information is strictly voluntary. However, certain information is required if you choose to complete an order or payment using this site.
Commitment to Data Security
We are committed to protecting the personal information that we collect. Secure Sockets Layer (SSL) protocol, an industry standard for transmitting data securely over the Internet, is used to encrypt the information before it is transmitted to us. Once we receive the information, your data is protected through a combination of strictly enforced procedures and a secured computer network designed in accordance with best practice guidelines. Multiple firewalls, multiple layers of data encryption and an Intrusion Detection System are all used to protect your data.